Record-High Giving
Not-For-Profit Grant Writers is a consultancy based in Midtown Manhattan in New York City specializing in raising funds for nonprofit organizations. 

Over the past twenty-five years, we have raised millions of dollars for nonprofits worldwide.
As for our standing in the field, our work is featured as a model in the grant-writing how-to manual "Guide to Winning Proposals" published by The Foundation Center, the New York-based organization that provides guidance and support to the entire fund-raising profession.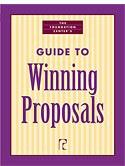 The Foundation Center selected one of our successful proposals from among hundreds, prepared by many firms, to be included in the handful presented in the guide as best examples.
If you want to learn more about how we can help you raise money for your organization—or if you have questions or comments— please phone, fax, Skype, e-mail or write us.
Deadlines pass and opportunities are missed as each month goes by. Waiting to begin proposal dissemination means lost opportunities to access donors that may be a perfect match for your organizational goals. For best results, act today.
Avoid missing out on what may be an ideal grant opportunity for your organization by talking with us soon.  We look forward to hearing from you.
WHY NOW?
WRITING ASSISTANCE BECAME MORE CRITICAL AS FUNDERS' PORTFOLIOS DIMINISHED FOLLOWING RECORD HIGHS IN PREVIOUS YEARS
Fund-raising is more competitive than ever. This has become particularly true now, as more than one-third of American charities said they collected fewer dollars in 2008 than in 2007, a near-doubling of the number of declines, according to a new survey reported by GuideStar, a Williamsburg, Va., nonprofit organization that makes data about charities available to the public. Because foundations and corporate donors have relied heavily on increases in the stock market, the losses suffered in grant-making stock portfolios have and may continue to be adversely affect funds available for distribution to nonprofits.
As a result, nonprofits must submit a larger quantity of better researched and more persuasive grant applications to assure that financial resources are not lost.   This is still true even as giving continues its recovery from its low point in 2010.

Charitable giving was on the rise in 2010 and a new report from Blackbaud, Inc. shows that the trend has continued into 2011. In the three-month period that ended this February, charitable giving rose 3% when compared with the same period last year. This represents the seventh consecutive period of increased giving, according to Chuck Longfield, Blackbaud's chief scientist and creator of the Blackbaud Index. Longfield commented on the findings in a recent statement to AdvisorOne: "Though overall giving is still roughly 5% below pre-recession levels, [this] indicates that we are well into a recovery in charitable giving. This result is especially noteworthy given the substantial giving to Haiti in the prior year period."
The Blackbaud Index of Charitable Giving
provides a broad-based analysis of giving trends for 1,430 nonprofit organizations. These include institutions focused on the arts, healthcare, human services, international affairs and religion.

Before the Recent Economic Downturn
TOTAL GIVING WAS AT RECORD-HIGH LEVELS
Total giving by U.S grant-making foundations climbed to an estimated $19.46 billion in 1998 from $15.98 billion in 1997. This one-year rice is the largest reported since record-keeping on all foundations began in 1975.
Newly and recently established foundations represent a strong force in philanthropy. Since 1980, the number of grant-making foundations has doubled-to about 44,000 from about 22,000.
Skyrocketing gains in stock values beginning in 1995 and continuing into 1998 were the first principal cause for record-setting giving.
Endowment values soared to $329.9 billion in 1997, rising 23 percent. Other factors included unprecedented levels of donor gifts and bequests to foundations.
The philanthropic landscape is changing rapidly as giving continues its recovery. Now is a good time to develop strategies for increasing non-profit revenue. Since you may wish to forward a well-crafted proposal to many prospects, you must start early in the year to make sure to meet foundation, government and corporate-donor program submission deadlines.

2010 Fundraising Survey Results: The Worst May Be Over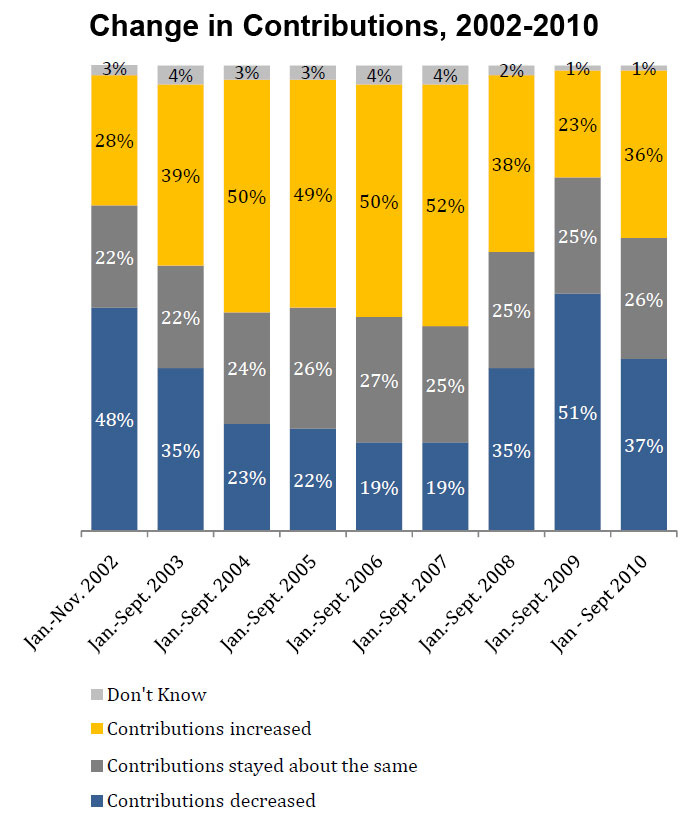 In October 2010, GuideStar joined forces with the National Center for Charitable Statistics (NCCS), the Association of Fundraising Professionals (AFP), the Center on Philanthropy at Indiana University, Blackbaud, and the Foundation Center to create the National Research Collaborative and conduct an end-of-year fundraising survey. Representatives of 2,356 public charities and 163 private foundations took the survey online between October 19 and November 3, 2010.
The results are encouraging: The proportion of participants reporting decreased contributions dropped 14 percent, from 51 percent in October 2009 to 37 percent in October 2010. The percentage who said contributions had increased grew 13 percent, from 23 percent in October 2009 to 36 percent in October 2010. These figures may herald the beginning of an economic recovery in the nonprofit sector, although only time will tell if the trend will continue. For the first time in two years, however, there's cause for cautious optimism about the sector and the economy.

Other highlights from the 2010 fundraising survey:
Larger organizations, those with annual expenses of $1 million or greater, were more likely to report increased contributions.
As has been true in previous years, respondents who reported decreased contributions cited "Fewer individuals gave" and "Gifts from individuals were smaller" as the primary reasons for the decline.
For the eighth consecutive year, a majority (68 percent) of participants reported increased demand for their organizations' services.
Half of the organizations represented in the survey receive the bulk of contributions during the last quarter of the year, the period known as the giving season. Of this number, 36 percent predict that contributions received during the fourth quarter of 2010 will exceed those from the last quarter of 2009, 43 percent expect end-of-year contributions to be about the same as last year, and 22 percent anticipate that end-of-year contributions will be lower.
Nearly half (47 percent) of participants expect their organizations' budgets to increase next year.
The survey report contains additional analysis, including breakdowns by mission category, and numerous charts and graphs. Download a free copy of the report